Lyon are 1-0 up at home to Metz and labouring when a lofted pass from Nabil Fekir finds Yoann Gourcuff in space on the left-hand edge of the penalty area. He deftly brings the ball down and throws a step-over to unbalance Metz defender Jonathan Rivierez, only for a posse of four opponents to force him towards the corner flag. The opening appears to have closed up, but Gourcuff holds off Rivierez and manages to drill a low pass to Corentin Tolisso, who steadies himself before shooting into the bottom-left corner from 25 yards.
At first glance, the goal seems all Tolisso's own work, but it is the pace of Gourcuff's pass that creates the opportunity. Tolisso is too far from goal to shoot first-time, but Gourcuff knows that by fizzing the ball into his feet at speed, Metz's defence will be caught off-guard and the young midfielder, an accomplished striker of the ball, will have time to pick his spot.
Though incidental, the assist bore all Gourcuff's hallmarks, showcasing as it did his sensitivity to the precise technical requirements of each on-pitch situation. Every action he performs seems delicately calibrated, from the deliberate way he paces backwards before taking set-pieces to his habit of bobbing on his toes at the start of his run-up and the exaggerated follow-through when he strikes the ball. Sadly for Gourcuff, and for Lyon, he is also uniquely sensitive to the condition of his body.
The list of nominees for the first ever FIFA Ballon d'Or award is unsurprisingly dominated by attacking players, but the latest odds show that it is creative midfielders and multi-faceted forwards, rather than out-and-out strikers, who continue to enjoy top billing in the glamour stakes.
Of the five favourites to win the award, only one – Diego Forlán – is a striker, and his goal-getting counterparts Didier Drogba, Miroslav Klose and Asamoah Gyan can all be found towards the longer end of the betting. It confirms a growing trend. In the last five years in which the Ballon d'Or has been awarded, Thierry Henry (third in 2006) and Fernando Torres (third in 2008) are the only classic strikers to have made it onto the podium.
The contrast with the previous five years is telling. Between 2000 and 2005, strikers Michael Owen (2001), Ronaldo (2002) and Andriy Shevchenko (2004) all won the award, with Shevchenko finishing third in 2000, Raúl coming runner-up to Owen in 2001 and Henry taking second place behind attacking midfielder Pavel Nedvěd in 2003.
"The only team I've seen that did things differently was Holland at the 1974 World Cup in Germany. Since then everything looks more or less the same to me…. Their 'carousel' style of play was amazing to watch and marvellous for the game."
The words are those of Carlos Alberto, captain of Brazil's 1970 World Cup-winning team, and they come from an interview published in the 50th anniversary issue of World Soccer magazine. The former Santos right-back is one of a number of greats – including Pelé, Bobby Charlton, Franz Beckenbauer and Diego Maradona – to have granted interviews to the magazine about the changes in the game over the last 50 years and their answers repeatedly return to the same complaints: that in becoming faster and more athletic, football has lost some of the artistry that was once central to its raison d'être.
At the dawn of the tournament Football Further posed ten tactical questions that the World Cup would answer. Three days after Spain's tense extra-time victory over the Netherlands in the final, the answers to those questions reflect a tournament in which defensive rigour was overwhelmingly de riguer and tactical innovation conspicious by its rarity.
1. Will freshness or preparedness prevail in Group A?
Having played just one game in the build-up to the tournament – a 4-1 win over Israel in Montevideo on May 26 – Uruguay took control of Group A before scrapping their way to the last four for the first time since 1970. How much of that was down to their fitness, and not the obliging manner in which the big teams benignly opened up the path to the semi-finals, is debatable. Mexico played 12 preparation matches and also made it out of the group phase, while their 3-1 defeat by Argentina in the last 16 showed no discernible signs of fatigue.
2. Will France's 4-3-3 work?

How to put this? Not only did France's 4-3-3 fail to work, but Raymond Domenech lost all faith in it before the tournament had even started. In their opening game, a 0-0 draw with Uruguay, they reverted to their tried and tested (if not actually effective) 4-2-3-1, with Jérémy Toulalan and Abou Diaby in the holding midfield roles and Yoann Gourcuff as the playmaker. The 4-2-3-1 remained in place for the 2-0 defeat by Mexico, but this time with Franck Ribéry in the playmaking role (to which he is wholly unsuited) and Nicolas Anelka reprising his great disappearing centre-forward act until matters came to a head at half-time. It was not until the 2-1 loss to South Africa that the long-awaited 4-3-3 finally made its appearance, but by then it was already too late. Over to you, Monsieur Blanc.
In purely chronological order, Football Further presents the 10 best goals of the 2010 World Cup. Apologies for the video quality. FIFA leaves us no choice.
1. Siphiwe Tshabalala (South Africa 1-1 Mexico, group phase, June 11)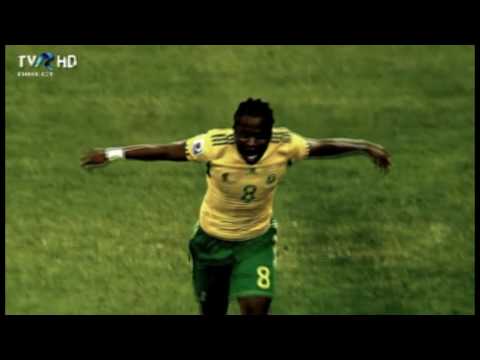 As in 2006, three of the four semi-finalists at this year's World Cup have played in a 4-2-3-1 formation.
For France, Portugal and Italy (whose 4-2-3-1 could also be interpreted as a 4-4-1-1) in 2006, read Spain, Germany and the Netherlands in 2010. Germany were the black sheep in 2006, with a 4-4-2 hinged upon a midfield diamond that featured Torsten Frings at the base and Michael Ballack at the tip. Uruguay are the odd ones out this time around, their 3-4-1-2 having initially morphed into a 4-3-1-2/4-3-2-1 and then a 4-4-2 for the semi-final defeat to Holland.
One of the most distinctive elements of the 4-2-3-1 is the presence of two deep-lying central midfielders in front of the defence. Spain, Germany and the Netherlands are not the only teams to have fielded two such players, but what has made their midfield configurations so effective is the way they have paired players with different qualities.
Sulley Muntari (Uruguay 1-1 Ghana; Uruguay won 4-2 on penalties):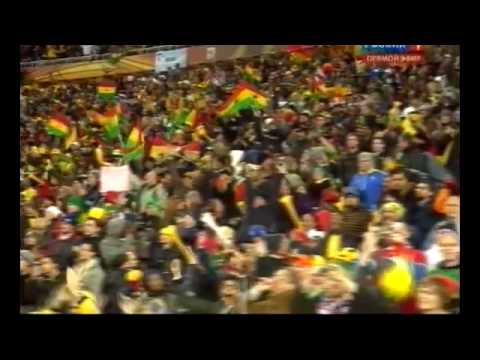 Honourable mentions: Luís Fabiano (Brazil 3-0 Chile); Robinho (Netherlands 2-1 Brazil); Diego Forlán (Uruguay 1-1 Ghana)
On the eve of the World Cup, Football Further asked whether the 4-2-3-1 formation would continue to dominate as it did at the last tournament in 2006. The average position diagrams below, taken from all eight last-16 matches, demonstrate that while it remains the most popular shape in the international game, variations in tactics mean that it is being deployed in very different ways.
Uruguay: 4-3-1-2/4-3-2-1
Uruguay began the competition as predicted by playing in a 3-4-1-2 but after a dour goalless draw with France in their opening game they shifted to a flat back four, with Jorge Fucile shuffling along to left-back from central defence, Alvaro Pereira pushed forward from left wing-back into a genuine left-midfield role and Edinson Cavani brought in on the right side of the attack in place of playmaker Ignacio González. Reading of the formation depends on Diego Forlán's positioning. He tends to play much deeper than Suárez, and slightly to the left, turning the shape into a 4-3-1-2, but Cavani's tendency to pull wide means he often operates on roughly the same line as Forlán, with Suárez left to lead the line alone.
 [Squad numbers: 1. Fernando Muslera; 16. Maxi Pereira, 2. Diego Lugano, 3. Diego Godin, 4. Jorge Fucile; 15. Diego Pérez, 17. Egidio Arévalo Ríos, 11. Alvaro Pereira; 7. Edinson Cavani, 10. Diego Forlán; 9. Luis Suárez]
David Villa (Chile 1-2 Spain):
Honourable mentions: Fabio Quagliarella (Slovakia 3-2 Italy); Keisuke Honda (Denmark 1-3 Japan); Carlos Tévez (Argentina 3-1 Mexico)
The debris from the slow-motion car crash that has been the last two years in the life of the France team is unlikely to settle for some time. The fall-out from their spectacularly ugly World Cup failure will rumble long into the summer, with players promising to reveal the full story behind their ill-tempered campaign and government ministers poised to carry out a searching investigation into the failings of the French Football Federation.
French football fans want a line to be drawn under this World Cup as swiftly as possible and in the imminent arrival of Laurent Blanc as new head coach they have at least an opportunity to start afresh. Le Président has not yet signed his contract but France's next game, a friendly against Norway in Oslo on August 11, is less than two months anyway and he will already have formulated strong ideas about how he is going to approach his gargantuan task. What next, then, for France?
Blanc would not be the first international coach to turn to trusted players from his tenure as a club manager and in that respect his arrival is good news for the Bordeaux contingent, namely Alou Diarra and, in particular, Yoann Gourcuff. The latter's wretched tournament was ended by a harsh red card in the 2-1 defeat by South Africa on Tuesday, but Gourcuff already carried the look of a haunted man. Amid rumours of discord between him and some of the team's high-profile senior players, Gourcuff produced an uncharacteristically shaky performance in the 0-0 draw with Uruguay and lost his place for the 2-0 loss against Mexico. His composure was badly disturbed by the atmosphere surrounding the team and Blanc's first job will be to restore him to the level of confidence he enjoyed during Bordeaux's annus mirabilis in 2009.