As the son of national boss Bob Bradley, USA midfielder Michael Bradley has had to work harder than most to prove himself worthy of a role in his country's World Cup plans.
Bradley, Sr. gave his son an early leg up by selecting him from the 2004 MLS SuperDraft during his tenure as coach of the New York/New Jersey MetroStars but since then, everything that Michael has achieved has been his own work.
He received his European footballing education at Dutch side Heerenveen, joining them from the MetroStars in a January 2006 move that made him the youngest MLS player ever to be transferred. A first-team starter from the moment of his arrival, Bradley enjoyed his breakthrough season in 2007-08, when he scored 16 league goals to finish joint-sixth in the Eredivisie scoring charts. In August 2008 he signed a four-year contract with one-time German powerhouses Borussia Mönchengladbach and has since become an indispensable component of their line-up, making 57 Bundesliga appearances over the last two seasons and scoring seven goals.
The 22-year-old is an equally integral member of the US team and was one of the stand-out players at last summer's Confederations Cup, scoring in the 3-0 defeat of Egypt and starring in the 2-0 upset win over Spain in the semi-finals before picking up a late red card for a crude challenge on Xavi that ruled him out of the final with Brazil.
Bradley was handed a three-game suspension for confronting referee Jorge Larrionda after the Spain match and disciplinary problems have been a recurrent theme in his career. He was sent off in the 2007 Gold Cup semi-final against Canada and was briefly relegated to the Gladbach substitutes bench earlier this season after falling out with coach Michael Frontzeck, who criticised the player for failing to learn from his on-pitch mistakes.
Bradley is likely to feature in an orthodox central midfield role for the States this summer and, despite his chequered disciplinary record, he refuses to countenance changing his approach to the game.
"I am who I am as a player, and part of that is being aggressive and bringing an edge to the centre of the field," he told USA Today this week. "It can't be done in a stupid way because then you hurt your team more than you help your team."
Bradley reportedly came close to joining Birmingham City in the 2008 summer transfer window and his all-action style suggests he would thrive amid the fast-paced hustle and bustle of the Premier League. His combative approach and natural aggression mean he can play as a purely defensive midfielder, but he is at his best when he is allowed to get forward because he is an adroit finisher who times his runs into the box superbly.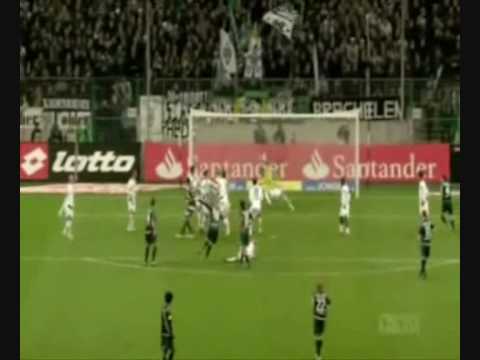 Media attention will inevitably focus on the paternal thread stretching from the dugout to the centre circle when the USA take to the field in South Africa, but Bradley, Jr. tends to respond with scarcely concealed contempt when asked about the working relationship with his father.
"He's the coach, he's my dad," he says. "I'm a player, I'm his son. There's not much else to it."
8 Responses to "World Cup scouting: Michael Bradley (United States)"