The naming and subsequent pruning of provisional World Cup squads in recent days has yielded a number of high-profile casualties, among them Ronaldinho, Francesco Totti, Antonio Cassano, Esteban Cambiasso, Javier Zanetti and Karim Benzema, and the tournament will undoubtedly be poorer for their absences.
Young stars including Italy's Mario Balotelli and the extravagantly gifted Brazilian pair of Neymar and Paulo Henrique Ganso have also missed out on the call-ups that many purists had hoped they might receive.
A less high-profile absentee in South Africa will be Italian left-back Fabio Grosso, who was removed from the defending champions' squad on Tuesday afternoon when Marcello Lippi cut his provisional group down from 30 to 28. An elegant former left-winger with a superb left foot, Grosso paid the price for a less than stellar season with Juventus, where he was unable to pin down a regular first-team place amid competition from 23-year-old Paolo De Ceglie.
His omission from Italy's squad is unlikely to make worldwide headlines, despite the fact he was one of the few players to flirt with iconic status at the last World Cup in Germany. Australian fans will not need to be reminded of Grosso's contentious role in Italy's 1-0 last-16 victory over the Socceroos, but he went on to score the decisive opening goal in a thrilling semi-final win against the hosts and then netted the penalty against France that brought the World Cup back to Italy after a 24-year absence.
"I can't describe my happiness and right now I am thinking of the people closest to me – my wife and my family and I want to dedicate this win to them," he said at the final whistle in Berlin.
"The penalties were a really tough moment but we wanted to win this cup so much and in the end we managed it. I can't wait to go and celebrate in Italy. I started out at the bottom as a player and now I've got to the very top, and this is hard to believe."
His crazed celebration after opening the scoring against Germany recalled the famous reaction of his countryman Mario Tardelli to scoring in the 1982 final against West Germany, and Grosso's disbelieving, ecstatic sprint down the touchline will in time take its place alongside Roger Milla's shuffle, Nobby Stiles's jig and Gerd Müller's boyish leap in the annals of World Cup history.
The following videos, meanwhile, sum up more eloquently than words ever could what it means to win football's ultimate prize. At 32 Grosso will not play in another World Cup but, to borrow Diego Maradona's oft-used phrase, he already knows what it feels like to touch the sky.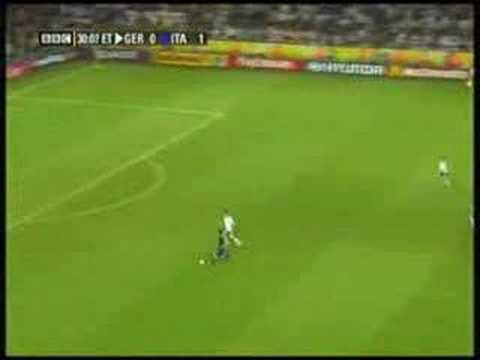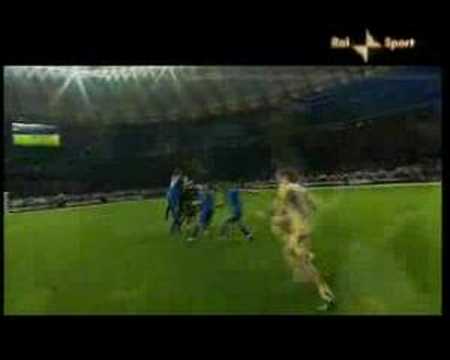 6 Responses to "Iconic Grosso bows out with fistful of heaven"