While much of the attention surrounding Argentina's World Cup campaign will understandably focus on their star-studded attacking line-up, their chances of success in South Africa depend just as much – if not more – on Diego Maradona's ability to configure an effective defensive unit.
The Albiceleste aren't exactly shabby when it comes to big-name defenders either, but one of the prime reasons why stars such as Barcelona's Gabriel Milito, Real Madrid's Ezequiel Garay and Internazionale pair Javier Zanetti and Nicolás Burdisso are unlikely to feature in Maradona's first-choice XI is the recent emergence of 22-year-old Vélez Sársfield defender Nicolás Otamendi.
Otamendi made his professional debut as recently as May 2008 and played his first game for Argentina in a 3-1 friendly win over Panama a year later. After playing an important role in Vélez's Clausura triumph last year, the centre-back received his first competitive international cap in Argentina's 2-0 World Cup qualifying defeat in Ecuador last June. He was one of the few players to emerge with any credit from the damaging 3-1 loss at home to Brazil last September (see video) and his year ended on a high after he played the full 90 minutes of the 1-0 win in Uruguay in October that secured Argentina's passage to the World Cup.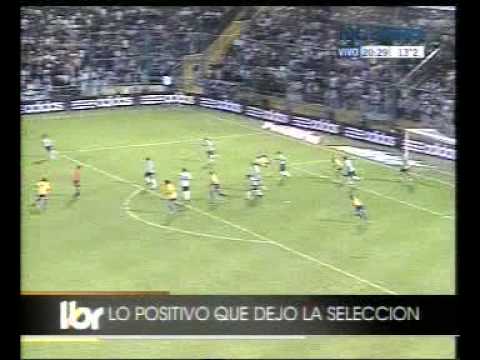 He held onto his place, at right-back, for the impressive 1-0 friendly win in Germany last month and Maradona said recently that the defence he selected for that game in Munich – Otamendi, Martín Demichelis, Walter Samuel and Gabriel Heinze – will be the one with which Argentina will open their World Cup campaign against Nigeria on June 12.
"I tried out lots of full-backs, I tried with Zanetti, [Emiliano] Papa, and I finished up with four central defenders," said Maradona. "I think I'm going to play like that, they're the ones who give me guarantees at the back. They didn't concede a goal and [Germany] didn't create any goal chances."
At 5'10", Otamendi is short for a centre-back but he is a brave, committed defender with good awareness and superb timing in the tackle. His combative style has also prompted comparisons with Argentine great Roberto Ayala, who stepped away from international football in June 2007 with 115 caps to his name.
"He plays like a veteran. In centre-backs, cases like this are very rare," said Vélez coach Ricardo Gareca last summer.
Ayala played at three World Cups (1998, 2002 and 2006) without ever getting beyond the quarter-finals. If the pieces fall into place for Argentina, Otamendi could outdo him by the middle of July.
14 Responses to "World Cup scouting: Nicolás Otamendi (Argentina)"