If recent World Cup history teaches us anything, it's that pre-tournament form is a fickle indicator of how sides will fare at the sport's showpiece event. Favourites typically stumble at early hurdles (France and Argentina in 2002, Brazil in 2006) and the teams that make it to the final – as Italy and France demonstrated in 2006 – are often simply those that come into form at the right time.
Spain, then, have little reason to feel complacent. Undeniably the most attractive footballing side in the international game after their scintillating 2008 European Championship success, they qualified for the World Cup with a perfect record and are currently outright favourites with most bookmakers to secure the beautiful gold and malachite trophy for the first time in their history.
Their shock 2-0 defeat to the United States in the semi-finals of last summer's Confederations Cup was, with hindsight, a timely setback. With fans and pundits blithely anticipating a meeting between Spain and Brazil in the final, the European champions were ambushed by a disciplined and spirited American side who brought their record-equalling 35-match unbeaten run to an abrupt and unexpected end. A year to the World Cup and Spain suddenly had to re-focus.
One of the challenges now facing coach Vicente del Bosque is maintaining levels of motivation in a team that essentially picks itself and also making sure that he has the right alternatives on the bench for the rare occasions when Spain's passing game is frustrated. Jesús Navas has benefited from this precise quandary. The Sevilla winger has the pace and the attacking incisiveness to make the established first-teamers sweat and also gives Del Bosque a one-man Plan B should he need one.
The 24-year-old made his Sevilla debut as a teenager in the 2003-2004 campaign and reportedly attracted interest from Arsenal in 2006, but was unable to play for Spain due to acute homesickness that provoked serious panic attacks whenever he spent time away from his home in Seville.
A consistent force in the side that won back-to-back UEFA Cups in 2006 and 2007, Navas has recently been linked with Real Madrid (whose Spanish international defender Sergio Ramos said he'd prefer Navas to Franck Ribéry), having finally made himself available for international selection in August after deciding to confront his psychological problems head on.
"To play for your country is the greatest thing and I hope to be able to," he said at the time. "Playing in the World Cup finals is the ultimate achievement for a player."
He was rewarded with a first ever call-up for November's friendly internationals against Argentina (in Madrid) and Austria (in Vienna) and played in both games before featuring as a second-half substitute in Spain's crushing 2-0 defeat of France last month in Paris, where he terrified the French defence with his speed and saw a low shot flash narrowly wide late on.
A nippy, nimble right-winger, Navas has the ability to beat men but is also a measured passer of the ball from wide positions and has amassed 35 assists for Sevilla over the last four seasons. Despite a slender frame and standing at only 5'7″, he also packs a punch when shooting and with nine goals to date in 2009-2010 he is enjoying his most prolific season at the club.
With neither Xavi, Andrés Iniesta nor David Silva possessing real pace and David Villa a magnet for accurate crosses, Navas might just prove to be the impact substitute that makes the biggest impact of all in South Africa.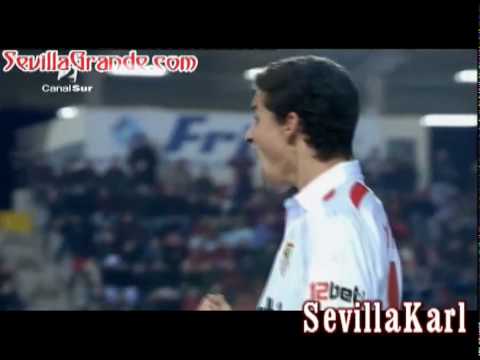 12 Responses to "World Cup scouting: Jesús Navas (Spain)"