A common complaint of international coaches in World Cup year is that they simply don't have enough time to prepare their squads for the manifold rigours of such an unremittingly high-profile tournament. Teams go into the World Cup backed by supporters who believe their performance will wash away years of accumulated disappointment in one fell swoop, despite having spent only a matter of weeks together by way of preparation in the majority of cases.
One way to short-circuit the lack of understanding inherent in a hastily convened international squad is to select players who have already played together at club level. It is for this reason that Paraguay were given reason to cheer last week, when Borussia Dortmund's Argentine striker Lucas Barrios acquired dual nationality that opens the way for him to partner his Paraguayan clubmate Nelson Haedo Váldez at the World Cup.
Barrios, nicknamed La Pantera, joined Dortmund for €4.2 million from Chilean side Colo Colo last summer and began the season hoping to force his way into Diego Maradona's Argentina squad. With Gonzalo Higuaín, Sergio Agüero, Carlos Tévez, Diego Milito and Martín Palermo (not to mention Lionel Messi) barring his way to a call-up with the Albiceleste, however, a lawyer with links to the Paragauyan Football Association exploited the fact that Barrios's mother was born in Asunción by applying for Paraguayan citizenship on his behalf.
"I had no idea. I'm a bit surprised and at the same time feel proud if what's happening comes true," said the 25-year-old after his dual-nationality was confirmed by a Paraguayan judge.
He could now take his place in Gerardo Martino's squad for South Africa alongside fellow naturalised Argentines Jonathan Santana and Néstor Ortigoza, who have already represented their adopted country, and Jonathan Fabbro, whose dual-citizenship was likewise confirmed recently.
"It doesn't seem logical to me to miss out on an important player," said Martino, himself an Argentine, after being grilled over the growing number of Argentine-born players on his radar. "The people will hang me for losing, not for nationalising [players]."
Martinez has yet to confirm whether Barrios will be invited to join the squad, but his naturalisation arrives at a timely moment for Paraguay, whose prolific Club América striker Salvador Cabañas appears unlikely to play again after being shot in the head in a Mexico City nightclub in January.
Barrios is currently fourth behind Edin Džeko, Kevin Kurányi and Stefan Kießling in the Bundesliga scoring charts with 15 goals and has played alongside Váldez with success on a number of occasions this term. He attracted the attention of European clubs with 37 goals in 38 matches for Colo Colo in 2008-2009 and, after a quiet start to his BVB career, has now struck 16 times in his last 23 matches in all competitions.
A slick, street-smart striker with a skillset not dissimilar to Manchester United new boy Javier 'Chicarito' Hernández, Barrios boasts explosive reactions and dexterity in the air. With Váldez habitually operating in deeper areas, Roque Santa Cruz short of fitness and Cabañas unfortunately out of the picture, Argentina's loss looks likely to be Paraguay's propitious gain.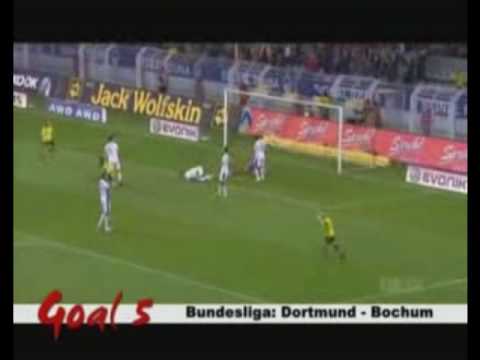 5 Responses to "World Cup scouting: Lucas Barrios (Paraguay)"