The element of surprise is an increasingly precious commodity in international football. Gone are the days when a team could pitch up at a World Cup and shock the world – like Holland in 1974 – with a revolutionary tactical system or – like Cameroon in 1990 – a group of players nobody knew.
The game's globalisation means that talents do not stay hidden for very long. No sooner has an exciting young player emerged from the Rio de Janeiro favelas or the Parisian banlieues than his video highlights have been posted on YouTube for all the world to see. Of the 32 teams that will contest this summer's World Cup, only North Korea will enter the tournament as true unknowns.
Over-exposure (and thus over-familiarity) is of particular concern for Brazil. Where sides like France and Argentina – and, increasingly, England – have been beset by problems in the build-up to the World Cup, Brazil's preparations have been relatively smooth. Having crushed Argentina in the final of the 2007 Copa América, Brazil cruised to success at last summer's Confederations Cup in South Africa and qualified for the World Cup without any major hiccups and with three matches to spare.
Places undoubtedly remain up for grabs in Dunga's squad, but his preferred tactical system is common knowledge. Barring a big surprise, Brazil's formation of choice this summer will be a 4-2-3-1/4-3-1-2 with Gilberto Silva and Felipe Melo in front of the defence, Maicon patrolling the right flank from right-back, Ramires or Elano supplying the legs in midfield and Kaká and Robinho playing in support of Luís Fabiano up front.
One as yet unresolved position, however, is left-back. Former Tottenham and Hertha Berlin man Gilberto, Internacional's Kléber, André Santos of Fenerbahçe and Filipe of Deportivo La Coruña all filled the role at various stages of the qualification campaign, while Real Madrid's Marcelo, Maxwell of Barcelona and Liverpool's Fábio Aurélio appear to have the requisite pedigree despite a lack of recent call-ups.
Perhaps the most adventurous option, though, would be Lyon's Michel Bastos. The 26-year-old is known to French football fans as a swashbuckling winger, having established himself in that position for Lille before his €18 million move to Lyon last summer, but he began his career as a left-back and it is how he continues to be considered in his homeland. Bastos made his belated international bow with an assured showing in the 1-0 victory over England in Qatar in November and was subsequently named in Dunga's unchanged squad for the friendly against Ireland on March 2.
Tactically, Bastos's pace, power and raw energy give Brazil an alternative outlet to Maicon. With opponents likely to set themselves up in anticipation of Maicon's raids down the right flank, Bastos may find he has more time and space to push forward on the left. He possesses superb ability from free-kicks and, as one of the finest strikers of a ball in Europe, will draw defensive players towards him every time he receives the ball within shooting range – which, in his case, can be anywhere up to 40 yards from goal: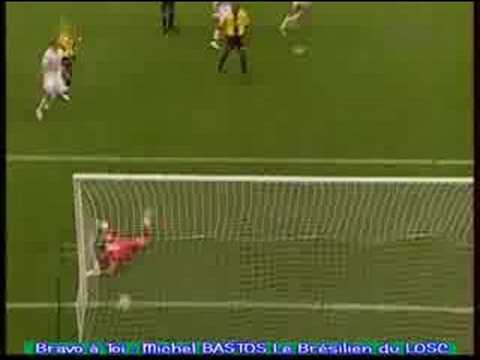 "I'm very comfortable with my left foot for crossing and shooting," he told France-Soir this week. "I know that sometimes people compare me to Roberto Carlos, probably because I score spectacular goals and when I started my career in Brazil I played in his position. One year I scored 12 goals in the league from left-back [with Figueirense in 2005-06]. It's an honour to be compared to Roberto, who is an idol for me. But I'm still a long way from his level. I've still got work to do."
Bastos scored 16 times for Lille last season and was Ligue 1's top assist maker with nine decisive passes. He has not quite scaled the same heights this term, occasionally starting as a substitute and often being asked to play in a unfamiliar role on the right side of midfield, but he has still managed to contribute vital goals and netted a superb 21-minute hat-trick in Lyon's 4-0 victory at Sochaux last weekend.
"I might have a big chance of playing at the World Cup as a left-back, although people are also talking about Marcelo a lot," says Bastos. "In any case, I'll do whatever it takes to secure a place in the squad. It's definitely because I'm a versatile player that Dunga has given me a chance."
Bastos claimed in August that he would even be prepared to play in goal in order to get to South Africa. The transition to left-back should be slightly easier to make.
10 Responses to "World Cup scouting: Michel Bastos (Brazil)"