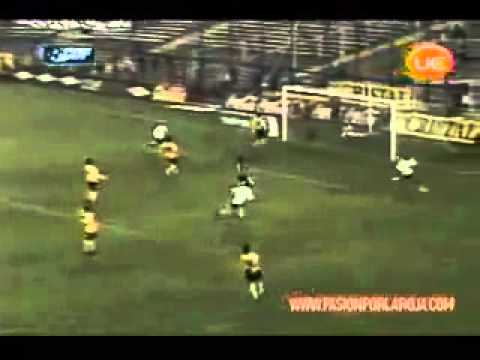 Born in the Caballito neighbourhood slap bang in the middle of Buenos Aires to an Argentine mother and Chilean father in May 1986, Matías Ariel Fernández Fernández moved to the town of La Calera in central Chile at the age of four.
By his early teens the attacking midfielder was on the books of Chile's biggest club, Colo-Colo. He made his league debut against Universidad de Chile in August 2004 and later in the same season scored the astonishing goal against Club Deportivo O'Higgins shown above, earning himself nationwide stardom in the first place.
His annus mirabilis was without question 2006, when – at the age of 20 – he led Colo-Colo to both the Chilean Clausura and Apertura titles, as well as the final of the Copa Sudamerica, and was named South American Player of the Year (becoming only the third Chilean to win the award). The stereotypical dream move to Europe duly materialised when he agreed to join countryman Manuel Pellegrini's Villarreal in December 2006 for a fee of €8.7 million.
"I am delighted to be here and didn't expect a reception like this," said Fernández after being greeted by a crowd of 3,500 fans at El Madrigal. "It is a proud moment for me as I always dreamed of playing in a league like this and now it is going to happen."
"I hope that Matías receives a warm welcome, but he doesn't have to feel pressure because he hasn't arrived at Villarreal to save anyone," said Pellegrini. "If he feels too much pressure, then he is not going to be able to show what everyone says he is."
Fernández scored prolifically for Colo-Colo but European football was to prove something of a shock to the system. He started in Villarreal's first 16 games following his arrival, playing off Diego Forlán as a support striker and creating the winning goal for Marquitos in a 1-0 home victory over eventual champions Real Madrid in January, but by the end of the season he had lost his place in the side to Guillermo Franco.
He sparkled all too infrequently during the following campaign. The club secured a runners-up finish in La Liga for the first time in their history, but his contribution was fitful. Things were even worse last season, when he made just five league starts, and in July last year Sporting swooped to take him to Portugal (amid less than mouth-watering interest from Blackburn Rovers and Bolton Wanderers) for a knockdown price of €3.6 million.
Playing time has been easier to come by in Lisbon and to date he has 16 league games and three goals to his name as Sporting struggle to bridge the gap to runaway pace-setters Braga and Benfica.
If his move across the Atlantic has been only a qualified success so far, Fernández's achievements in the international arena have borne testament to his undoubted talent. Having captained Chile at the 2005 FIFA World Youth Championship, the 23-year-old is now at the forefront of an exciting generation of young players that includes Udinese livewire Alexis Sánchez (21), Bayer Leverkusen defender Arturo Vidal (22) and Gary Medel (22) of Boca Juniors.
Under the tuition of enigmatic Argentine coach Marcelo Bielsa, Chile's young stars finished second to Brazil in the South American World Cup qualifying tournament, scoring an impressive 32 goals in the process, and La Roja will travel to South Africa next summer after an absence of 12 years from the game's showpiece event.
With four goals in 15 appearances, Fernández was Chile's second top scorer in qualifying behind 10-goal Humberto Suazo. A courageous and free-spirited dribbler, his ambling, almost bandy-legged gait recalls some of South America's most enduring stars and he also takes a mean free-kick. His Spanish sojourn may have been a disappointment, but the stadiums of South Africa will finally give Matigol the chance to showcase his gifts on the biggest stage of all.
6 Responses to "World Cup scouting: Matías Fernández (Chile)"