Prior to Sunday, if you typed 'Nani Arsenal' into YouTube, the chances are that you would have fallen upon footage of this outlandish piece of showboating during Manchester United's 4-0 victory over Arsène Wenger's side in the FA Cup fifth round just under two years ago: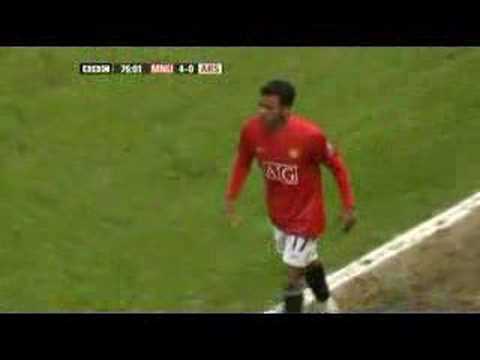 It raised a huge cheer from the home fans, who always delight in inflicting misery upon their biggest domestic rivals in the style stakes, but in many ways it was typical Nani. The season finished with United winning the league, the Champions League and the Carling Cup but Nani remained on the periphery; a maddeningly inconsistent figure, prone to over-elaboration and more readily associated with exuberant party pieces – and the occasional spectacular goal – than match-winning performances.
There was hope that he would begin to follow the example of Cristiano Ronaldo, but if anything, Ronaldo's presence on the pitch seemed to inhibit him. Forced to the left by his countryman's top billing on the opposite flank, Nani was forever checking inside onto his right foot, running into trouble and ducking down blind-alleys. With the ball at his feet he was hesitant, seemingly aware that something special was expected of him but unsure as to what exactly that might be. Too often he went for the easy option, momentarily rousing the crowd with a step-over or a showy backheel, but there was nothing to compare to the rapier-like thrusts of Ronaldo on the other side of the pitch.
This season was his big chance to step into the limelight vacated by Ronaldo's departure, but the same old failings persisted. Having started the first three league games of the season, he lost his place to new signing Antonio Valencia.
"People expect more from me and it's not easy," Nani was reported to have told a Portuguese newspaper in November. "I could be doing better, scoring more, but just think, I play a huge game today but the next one, I'm not even sure that I will play. Such a situation breaks your confidence."
In the weeks leading up to Christmas, Valencia showed exactly what a right-winger can achieve if he puts his faith in his pace and tries at all times to play the early ball. Unable to match Ronaldo's exceptional blend of attacking gifts, Nani must have seen in Valencia's direct approach a much more appropriable model.
And so it is that Nani suddenly appears reborn. Right from kick-off at Arsenal on Sunday, he was sharp and alert, shifting the ball on swiftly whenever he received it and looking to play the quick ball into the box at every opportunity. It was classic wing play and the game-turning dribble that led to the opening goal was as scintillating as anything Ronaldo ever produced in a red shirt.
"He's a very shy boy and maybe his personality is getting stronger to play for us every week," said Sir Alex Ferguson after the 3-1 victory at the Emirates. "Today was an example of that maturity."
Nani has not become a different player overnight. He is the same player, with roughly the same level of ability that he has always had. What has changed is his attitude and his appreciation of his role. For that he deserves credit, but he himself must know that he also owes a debt of gratitude to the example set by his right-wing rival Valencia.
2 Responses to "Valencia leads Nani down path to effectiveness"