When Jose Mourinho swept into English football in 2004, he immediately realised that the natives' predilection for the 4-4-2 would make midfield dominance relatively easy to come by. His trademark 4-3-3 system ensured that his Chelsea team typically enjoyed a numerical advantage in the centre of the pitch and glory – on the domestic front at least – swiftly followed.
The challenge, then, became to procure a man advantage against a three-man midfield. On Wednesday night, Manchester United showed how it's done.
Chelsea's current midfield diamond (effectively a 4-1-2-1-2) means they are always well staffed in central midfield, but United were able to dominate Manchester City's central trio in their 3-1 Carling Cup semi-final second-leg victory without sacrificing any of their natural width.
Michael Carrick and Darren Fletcher are more readily associated with, respectively, languid passing and terrier-like harrying, but against City their less heralded attacking talents came to the fore. The key lay in forcing City back towards their own goal and quickly flooding men forward to take advantage.
United did this by hitting Wayne Rooney with long balls from deep, usually from Paul Scholes or Ryan Giggs, and then springing Carrick and Fletcher into attack. Nani's role was effectively as a decoy, keeping Javier Garrido occupied on United's right flank and making the pitch as wide as possible by hugging the touchline.
The result was that City's central midfield trio of Gareth Barry, Nigel de Jong and Pablo Zabaleta were constantly being bypassed and forced to turn towards their own goal. Carrick and Fletcher were able to push forward at the same time because the quick long pass (not a regular United tactic) forced City so deep into their own territory that there was no chance of an immediate counter-attack, while Giggs and Nani – ordinarily United's most attacking midfielders – held their positions on the flank. The away side were effectively under siege.
"When we were at them, we were really at them. They didn't know what to do, they couldn't get out," said a breathless Rooney in his post-match interview, clearly thrilled by his side's attacking verve.
When United went forward, it was often in a 4-1-3-1-1, with Scholes in front of the defence; Carrick, Fletcher and Giggs in advanced midfield; Nani wide right and Rooney pulling off to the left from a central starting point. When Scholes put United ahead, he, Carrick and Fletcher were standing within 15 yards of each other on the edge of City's area, after Rooney sprung United forward with a sublime pass to the breaking Giggs. All five midfielders finished the move in the City box. The sudden presence of the unmarked Nani in the area from Giggs's cutback attracted no less than four defenders towards the ball, leaving space for Scholes to strike: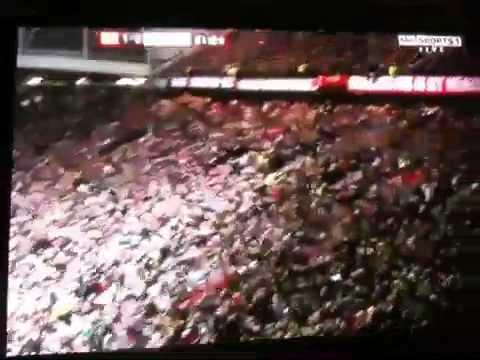 When Carrick put United 2-0 up, it was Fletcher who provided the assist after powering into the area from deep to latch onto Nani's pass. When Rooney scored the winner, it followed a header from Fletcher that Shay Given had to turn behind for a corner. Rooney's extraordinary qualities as a lone forward meant that he was able to lead the line and stretch the City defence but at the same time draw his markers away from goal to leave space for his midfield colleagues.
"His control, his leading of the line and his penetration were absolutely fantastic tonight," said United coach Sir Alex Ferguson. "It was a wonderful performance and a true world-class display."
Barry, de Jong and Zabaleta were expecting to go toe-to-toe with three similarly conservative adversaries. Instead, thanks to United's surprising and courageous attacking strategy, the game quite literally passed them by.
3 Responses to "Tactics: United out-man City's midfield three"