Replacing a much-loved club favourite is a thankless task. Occasionally, such as when Barcelona brought Rivaldo in from Deportivo La Coruña to replace the departing Ronaldo in 1997, a club strikes gold. More often than not, though, things don't pan out as hoped.
It was with a heavy heart, then, that Lille's directors set out last summer to replace Lyon-bound Michel Bastos, the jet-heeled Brazilian winger with the thunderous left foot whose 14 goals and nine assists last season fired his team into Europe and earned him a place in the Ligue 1 Team of the Season.
The man they turned to in the end was Gervinho, real name Gervais Yao Kouassi. The 22-year-old Ivorian forward with the dreadlocks and the Brazilian nickname made a steady start to life at the Stadium Lille-Métropole but in October he suddenly exploded into life, scoring 11 goals in 12 league games in the run up to Christmas and leaving Lille second in the table and in the knockout phase of the Europa League as he headed off to the Africa Cup of Nations.
Gervinho arrived in France in 2007, joining Le Mans from Belgian side Beveren, but he had reportedly been tracked by Arsenal since his days at the prolific academy of hometown club ASEC Mimosas. His stats in his first Ligue 1 season were unspectacular – two goals in 26 league appearances – but his effervescent dribbling and livewire performances reportedly brought him to the attention of Ligue 1 heavyweights Monaco, Marseille and Paris Saint-Germain.
"If he is lucky with injuries, in the next two years he could be at the same level as [Cristiano] Ronaldo, Messi, Nani – those top young players, he is that good," said international colleague Didier Drogba, to whom Gervinho has been compared in style.
The player declared himself flattered by rumoured interest from Arsenal in 2008 but, having captained his country to a quarter-final showing at the Olympic football tournament in Beijing that summer, he remained at Le Mans. The following campaign brought seven goals in 33 league games and by that stage there was no disguising his talent. With Arsenal once again waiting in the wings, Lille made their move, shedding out a club record €8 million to secure Gervinho's services for three years.
"Gervinho can be dangerous both scoring and making goals," said Lille coach Rudi Garcia at his new signing's unveiling. "We want to compensate for the loss of Michel Bastos. But they play in very different areas. That's why we're not going to ask him to produce the same statistics as his Brazilian predecessor."
With half the season still to run, Gervinho has already exceeded expectations. He's bettered his previous best scoring tally for a Ligue 1 season, netted five goals in one of the Europa League's toughest groups and formed a very useful partnership with nine-goal Pierre-Alain Frau. Devastatingly quick, strong and with terrific feet, Gervinho has scored some outrageous goals and was arguably the standout player of the autumn in France.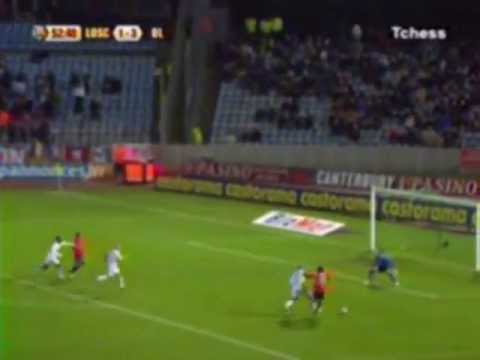 Ivory Coast will likely have to overcome Portugal to escape from a particularly challenging World Cup group, but football fans around the world will soon come to realise that there is a lot more to The Elephants' attack than Didier Drogba.
3 Responses to "World Cup scouting: Gervinho (Ivory Coast)"